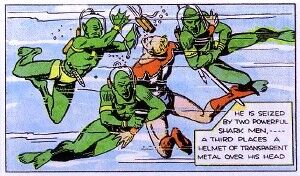 The Shark Men live in an undersea kingdom on Mongo; they're ruled by King Kala.
In the 1936 Flash Gordon serial, the Shark Men capture Flash Gordon and Dale Arden on the orders of Ming the Merciless. They deliver Flash and Dale to King Kala.
The main Shark Man was played by House Peters, Jr.
Gallery