Karen Cliche (pronounced "Kleesh") (b. 1976) plays Baylin in the Sci Fi Channel Flash Gordon series.
Cliche has appeared in a number of Canadian science-fiction/fantasy TV series, including Big Wolf on Campus, Adventure Inc., Vampire High and Mutant X. In fact, Cliche says that she's grown used to playing science-fiction roles: "Now when I play regular human roles, I'm like, 'Oooh, where are my superpowers?' I find it kind of boring just to play a regular human girl." [1]
In an interview, Cliche said that she's doing her own stunts on Flash Gordon:
I absolutely love action scenes. It's so challenging and such an adrenaline rush, because you know that if you miss your timing on one punch... ow. It's such a test of coordination and skill. Women don't often get to showcase their physical strength, and I love to be able to do that. So I do all the fighting in my shows, with the exception of high falls or gymnastic moves that I would look ridiculous doing... or kill myself!

[2]
Television
Flash Gordon (2007) - Baylin
Runaway (2006) - Erin Baxter
Young Blades - Jacqueline Roget/Jacques LePonte
Mutant X (2003-2004) - Lexa Pierce
Adventure Inc. - Mackenzie Previn
MTV's Undressed (1999, 2002) - Marissa
Big Wolf on Campus - (1999, 2002) Princess Tristan Kim
Galidor: Defenders of the Outer Dimension (2002) - Lind
Summer (2002) - Stefanie LeDuc
Protection (2001) - Savannah
Heist (2001/I) (uncredited) - Alex aka Vol, Le (Canada: French title)
Stiletto Dance (2001) - Tamara
All Souls (2001) - Gabby Maine
Largo Winch: The Heir (2001) - Danielle Dessaultels
Vampire High (2001) - Essie Rachimova
Wrong Number (2001) - Karla Mackay
Dorian (2001) - Christine
Tunnel (2000) - Woman on Train
Race Against Time (2000) - Irina, Lifecorps Receptionist
The Collectors (1999) - Kate
Dr. Jekyll & Mr. Hyde (1999) - Muriel
Misguided Angels (1999) - Marsha
Television Movies
Flirting with Danger (2006) - Ellen Antonelli
I Do (But I Don't) (Lifetime Network 2004) - Darla Tedanski
External links
Sources
Gallery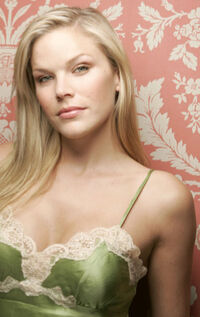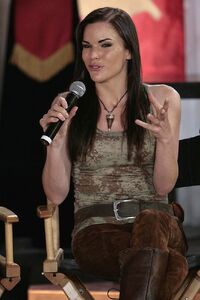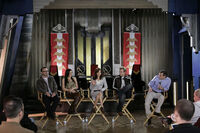 Community content is available under
CC-BY-SA
unless otherwise noted.