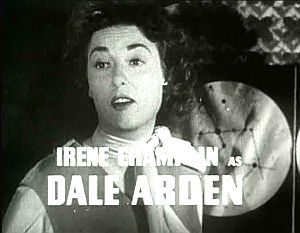 Biography
Irene Champlin (ca. 1931 - 1990) was the stage name of Irene Field, who played Dale Arden in the 1954 syndicated "Flash Gordon" series.
Her few other credits included the film Guerilla Girl and episodic appearances on the TV series The Verdict is Yours, From These Roots, and Guiding Light.
Her Dale Arden had no romantic scenes with Steve Hollands Flash Gordon, but the Zharkov character flirted with her occasionally. Unlike the real Dale Arden character, Champlins character has a scientific background. Also, she frees herself and revives Flash in at least one episode.