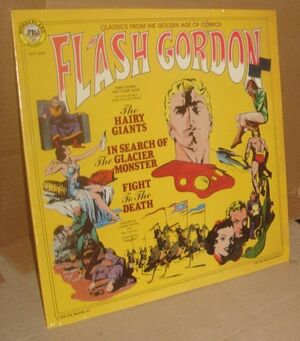 Overview
In 1979, Wonderland Records (a division of A. A. Records of New York City) released two newly-recorded albums of Flash Gordon adventures. The recordings were stereo, with extensive music and sound effects, and the production quality was comparable to the classic radio serials. Most of the stories take place in Mongo's icy kingdom of Frigia, with Queen Fria as a major character, and Count Malo as a rival to Flash.
Flash Gordon Volume 1
The Tyrant of Mongo (12:04)
In The Ice Kingdom (13:13)
Terror and Treachery (14:28)
Flash Gordon Volume 2
The Hairy Giants
In Search of the Glacier Monster
Fight to the Death
Cast
Carol Leslie
Michael Greer
Dyan Forest
Richard Goemann
Tom Cipolla
William Shust
Details
Adapted by Charles Romine and Kay Tacouni
Produced by Ralph Stein
Recorded at JAC Recording, 1979
Albums conceived by Bob Goemann
See also
Community content is available under
CC-BY-SA
unless otherwise noted.